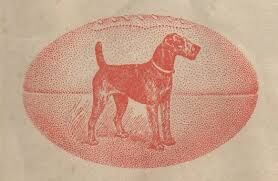 The most interesting team in National Football League history is one you've never heard of.
In just two seasons the Oorang Indians produced more fever-dream lunacy than most modern NFL franchises have in decades of existence. Before trying to argue that your favorite colorful characters and stories from NFL history top those of the Indians, please know that the story of this franchise includes:
Dogs. Lots and lots and LOTS of dogs
Accusations of sheep murder as the primary reason for forming an NFL franchise
Both the players and owners treating playing in the National Football League as a literal side-hustle and marketing gimmick for a completely different business
The smallest city to ever host an NFL franchise
Said franchise never actually playing a single game in their hometown
Truly mind-boggling revelations about how little it cost to start an NFL team in the 1920s
The invention of the halftime show and training camps
One of the most famous and accomplished athletes of all-time, who also happened to be a national champion ballroom dancer
Some of the best player names in NFL history
A pet coyote
Drunken, unsanctioned alterations to the public transportation infrastructure of St. Louis
Bear wrestling
Honestly, that list doesn't even do the full story justice, as this truly may be one of the most entertainingly insane franchises in all of sports history. Without further ado, Forgotten Franchises presents the story of the Oorang Indians, the NFL's original Dawg Pound.
Origins
Walter Lingo was born in LaRue, Ohio (current population: 714) in 1890. He would essentially never leave LaRue, living, dying, breeding dogs, and briefly owning and operating a National Football League franchise in the tiny central Ohio town.
Walter began breeding dogs when he was just nine years old, eventually focusing his efforts on creating a better, stronger breed of the Airedale Terrier. Perhaps the most notable Airedale in history is the one owned by a young John Wayne. That dog was named Duke and is where Wayne's own nickname comes from (click here for a picture of a young John Wayne and Duke). For a visual reference, these good bois are Airedales:
Lingo dubbed the specific breed of Airedale he created the "King Oorang" and began a mail-order business selling the dogs, which he advertised as being the "world's great all-around dog." His dogs quickly became world famous, and in order to keep up with demand for them he would sell up to 1,000 female dogs to farmers throughout Ohio on the condition that Lingo would be allowed to regularly bring the dogs back to breed and give birth to new Oorangs and then buy the puppies at a pre-agreed price. This allowed Lingo to produce huge numbers of puppies without having to care for hundreds of adult dogs when they were not actively breeding.
Eventually Walter Lingo's dog breeding business was so successful that he was selling upwards of 15,000 dogs every year, a pace that comes out to more than 40 dogs sold every single day of the year. Advertising was a crucial part of his business success, and he reported that he was spending over $2,000 a month advertising his dogs in the 1920s, which comes out to just over $30,000 when adjusted for inflation.
That focus on advertising and marketing for his dogs would play a crucial role in Lingo's decision to start a franchise in the nascent National Football League.
Despite the global fame and demand for the breed of dogs he created, Lingo's neighbors in LaRue and the surrounding area weren't thrilled by the presence of the dogs, with a public relations disaster arising when many accused Lingo of raising a nation of sheep killers. To combat these accusations, Walter turned to celebrities such as Ty Cobb, Jack Dempsey, Gary Cooper, and Tris Speaker, inviting them all to come hunt with him and the dogs in an attempt to borrow their credibility with the American public.
Another celebrity that came to the defense of Lingo's dogs was Jim Thorpe. At this time Thorpe was in his thirties and already had the following athletic achievements to his name:
Won the 1912 intercollegiate ballroom dancing national championship (still a thing!)
Won a college football national championship
Two time consensus first-team college football All-American
Won two gold medals at the 1912 Summer Games (in the pentathlon and decathlon)
Won the AAU's "All-Around Championship" in a record-setting performance
Played six seasons of Major League Baseball
Played six seasons of professional football, including winning three Ohio League championships with the Canton Bulldogs
Thorpe at this point had been declared the greatest athlete in the world many times over, and was one of the most famous people in America full stop. He also claimed to have known an Airedale Terrier that saved a six-year-old girl from being trampled by a bull. Walter Lingo struck up a friendship with Thorpe after the latter came to the defense of his dog breed, and the two became regular hunting partners.
It was on one of these hunting trips that the Oorang Indians were born.
With Thorpe no longer set to compete for the Canton Bulldogs, an idea was formed to create a new football team for him to headline, a team that would serve first and foremost as a publicity stunt to advertise Lingo's King Oorang dog breed.
The Team
Lingo agreed with the idea, and in the summer of 1922 he travelled to Canton, Ohio to purchase a franchise in the NFL, an organization that had formed just two years earlier. It cost him just $100 to buy his franchise, an amount that comes out to just over $1,500 in modern money. For a point of reference, the Carolina Panthers were the most recent NFL franchise to be sold, with David Tepper shelling out $2.3 BILLION for the team in 2018. Even the more modest amount the McNair family paid to start a completely new franchise in the Houston Texans came out to $700 million in the early 2000s.
To drive home just how insane it is that someone was able to buy an NFL team for a single Benjamin, consider that at the time he bought the franchise Walter Lingo was charging $150 ($2,300 after inflation) for a single one of his dogs. A DOG was 50% more expensive than an NFL franchise!
Having purchased his place in the league, Lingo named the team after his dog breed and put Thorpe in charge, paying him $500 a week ($7,600 after inflation) to play, coach, and manage the team. Lingo also had a pair of conditions he applied to his team. First, the team had to be made up entirely of Native Americans, and second the players would all have to focus on running the dog kennels as their primary job, with playing NFL football coming second. As a result, Thorpe was also put in charge of managing the kennels in addition to his football duties.
Because the team existed to sell dogs, Lingo also wanted his team to almost exclusively play road games, and in fact they played just a single home game in each of their two seasons of existence. As an added quirk, those home games didn't actually occur in the team's hometown at all, as LaRue lacked an actual football field. Instead those rare home games took place in Marion, Ohio, about 15 miles from LaRue. To help mitigate the effects of the team's hectic travel schedule, Walter Lingo had the same dietician and trainer that cared for his dogs look after the health and well-being of the football players.
The roster compiled by Thorpe included native athletes from many different tribes, and the roster was littered with names such as Long Time Sleep, Woodchuck Welmas, Joe Little Twig, Big Bear, Wrinklemeat, Laughing Gas, Xavier Downwind, Dick Deerslayer, Baptist Thunder, Bear Behind the Woodchuck, Lone Wolf, and War Eagle.
Walter Lingo's son recalled that the team would try to practice every day, but true to the terms of the team's founding they only did so after the day's chores were done at the kennel. Players cared for and trained the dogs, and even built the crates used to ship them to customers. Kennel work kept the players in good shape, even if it did cause them to miss a few practices here and there. Something else that illustrates how little focus was actually put on the team's on-field performance is the fact that there were times when the team would make up plays on the spot during an NFL game, just like kids do when playing in the sandlot.
Off The Field
During the season the Oorang Indians found themselves in some of America's premier cities, which was all part of Walter Lingo's plan to advertise his dogs to potential customers near and far. As the players were well aware that the team primarily existed to serve as a marketing gimmick, they relished these opportunities to go out and party in big cities across the country knowing that it did not matter how they played on the field the next day.
The lake of inhibition this freedom afforded the team led to some truly wild behavior. First, it is worth noting that one of the players, Nick Lassa aka Long Time Sleep, was a talented wrestler. He would routinely compete in wrestling matches with locals while the team was on the road, winning between $10-$20 when he won ($150-$300 after inflation), which the team would then use to fund their nights out. Lassa was also notable for travelling from Montana to Ohio with a coyote he used to wake himself up in the morning, which was adopted as a sort of team mascot.
One of these nights out ended with the team becoming frustrated when a Chicago bartender stopped serving alcohol at 2 a.m. in accordance with state law. As a result of the bartender's refusal to keep pouring drinks, the team picked him up, stuffed him in a phone booth, and then turned the entire phone booth upside down. Unsurprisingly, the Indians were crushed by the Chicago Bears mere hours later by the score of 33-6. Another story involves the team having to figure out how to return to their hotel in St. Louis at the end of a night out. They were able to find a trolley operating in the city that could potentially take them back to their rooms, but discovered the trolley was actually set on a route going in the opposite direction of their hotel. To rectify the situation the team took the only reasonable course of action, physically picking up the trolley and turning it around on the tracks and then directing the conductor to their accommodations.
On The Field
The Oorang Indians were not a very good football team. Which makes sense, since they were more of a living advertisement than a team. In their first season they went 3-6 against NFL opponents and 2-2 against independent teams, for a record that was more respectable than one would expect from a team that was on the losing end of scores such as 29-0, 36-0, and 62-0 during the year (not to mention a 13-0 loss to the Milwaukee Badgers, a team you can learn more about here). The 1923 season was even worse, with the Indians going 1-10 against NFL teams and 2-10 overall. The 1923 squad was even outscored 235-12 in their first nine contests. Part of the reason for the on-field struggles was caused by injuries to the team's two best players, Jim Thorpe and Joe Guyon. While both men would be part of the initial class of the Pro Football Hall of Fame, they were both past their primes and injury-prone during their stints with the Indians.
As a whole, the team took advantage of the prejudices of 1920s America to get away with on-field behavior that other teams could not. As quarterback Leon Boutwell put it:
"White people had this misconception about Indians. They thought they were all wild men, even though almost all of us had been to college and were generally more civilized than they were. Well, it was a dandy excuse to raise hell and get away with it when the mood struck us. Since we were Indians we could get away with things the whites couldn't. Don't think we didn't take advantage of it."
Inventing The Halftime Show
While their on-field performance was largely forgettable and almost totally forgotten, the Oorang Indians are historically important when it comes to the evolution of professional sports as entertainment. You see, the Indians invented the halftime show, because of course they did.
As with everything related to this franchise, halftime shows were developed as a way to showcase Walter Lingo's Airedale Terriers. Instead of having his team rest and strategize at halftime, Lingo had the players stay on the field and put on a show for the fans in attendance, with his dogs having a prominent role in the festivities. These halftime shows became so renowned that they were the primary draw for many fans, as Lingo took to promising a good show even if the football action was subpar.
Both before the game and at halftime, the Indians and the dogs they were advertising would put on shows consisting of acts such as target shooting and retrieval, Native American dancing, tomahawk and knife throwing, and demonstrations of Airedales that had been donated to and trained by the Red Cross administering first aid to actors and former soldiers pretending to be wounded in combat.
Oh, and remember that guy who would wrestle for booze money the night before games? He was known to put on very special wrestling performances from time to time. Namely, he would wrestle a bear like a real life Jackie Moon from Semi-Pro. Anyone reading this who says they wouldn't love to see Ben Roethlisberger wrestle a bear at halftime of the next Steelers game is a liar.
After
While the Indians were initially a hit among fans of sports, spectacle, and adorable puppy dogs, the team's poor performance meant that fans quickly lost interest in attending the team's games after seeing the halftime show just once or twice. With gate revenue falling, Walter Lingo pulled the plug on financing the team after the 1923 season, and they officially folded prior to the 1924 NFL season. In their two years of existence the team had compiled a record of 4-16 in the NFL and 7-18 overall, but they had also invented the concept of a halftime show and advertised Lingo's Airedales to thousands of people across the country. The team is also credited as the first NFL team to hold a regular training camp prior to the start of the league season.
Walter Lingo's kennel business remained wildly successful throughout the 1920s before suffering greatly during the Great Depression. Despite that difficulty, the business did not entirely collapse, and the Oorang Kennel Company was still in operation upon his death in 1966.
Jim Thorpe remained friends with Lingo even after the team was disbanded, and even served as the main draw on a traveling basketball team that Lingo ran in the late 1920s, also called the Oorang Indians. Thorpe continued to play professional football until 1928, and was eventually enshrined in both the College and Professional Football Halls of Fame, and he is still considered one of the greatest athletes in history. He passed away in 1953.
Finally, bear-wrestler Nick Lassa aka Long Time Sleep remained in the LaRue area working for Lingo and other local farmers while also earning money as a professional wrestler and strongman. He eventually gave up drinking and bear-wrestling, raised a family, and became a respected member of his community before passing away in 1964.
And that's the story of how dogs, bears, marketing savvy, and a bunch of rowdy kennel workers moonlighting as football players paved the way for Lady Gaga to jump off the roof of a stadium, Katy Perry to ride a Megazord onto the field and dance with Left Shark, and Prince to dazzle us all by keeping himself and his extremely phallic shadow dry in a rainstorm.
Thanks for reading! This is a story I've meant to get written up for far too long, and quarantine-induced boredom finally got me to do just that, for which I am thankful. We'll see if this gets me motivated to keep pumping out new content, but even if it doesn't I'm glad I finally got around to writing about the Oorang Indians, and I hope this little slice of nutso NFL history brightened your day!
Sources and Further Reading:
Oorang Indians Pro Football Reference Page
Oorang Indians Pro Football Hall Of Fame Page
Oorang Indians American Football Wiki Page
Nick Lassa/Long Time Sleep Wikipedia Page
The Forgotten Legend of Nick Lassa-Flathead Living